PAOLO TROILO
PAOLO TROILO paints bodies using his body. A canvas, paint and his hands are all he needs to create his unique large-scale paintings of imagined and surreal bodies, which draw inspiration from the beauty of human anatomy.
Paolo lives and works in Milan, where he left behind an award-winning advertising career to become a painter. From his studio in Milan Paolo creates artwork in a paired-back technique using only paint and his hands. A serendipitous event led Paolo to paint with his hands - a technique which he has realised bestows infinite possibilities on his artistic practice.
PAINTER
Paolo worked in advertising for fifteen years. For Paolo, this experience was his 'art school' - and this time has a huge impact upon the work he creates today.
The fact that Paolo paints in monochrome is influenced by advertising - Paolo wants the viewer to know that what they are looking at is not reality; he does not want to use the colours that advertising uses to manipulate us.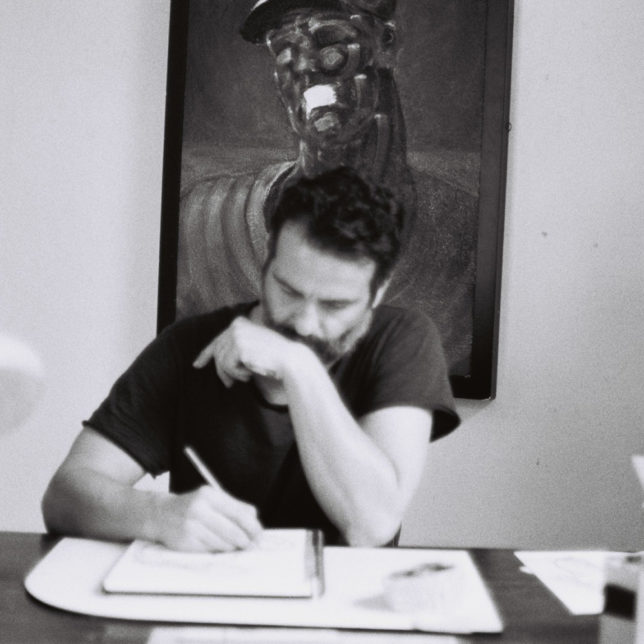 FAVOURITE TOOLS
For Paolo, painting with his hands is a "beautiful sensation because you feel contact with the material". Paolo's process involves only canvas and paint, meaning that the journey from idea to creation is as short as possible.
In fact, Paolo hardly ever prepares a sketch before painting, because his process is so direct there is often not enough time to prepare. For that reason using the right materials is extremely important to Paolo.
The paint he uses is a high-quality vinyl-based acrylic, which he uses in only black and ivory, mixing the colours on his hand or using the pressure of his fingers against the canvas.
Favourite tools: Lefranc Bourgeois Flashe Acrylic in black and ivory