HOW ARTIST TIM SMITH INSPIRES CREATIVITY THROUGH WATERCOLOUR WORKSHOPS IN DIFFICULT CIRCUMSTANCES
Colart meets artist Tim Smith who teaches young aspiring artists how to paint with watercolours in Molenbeek, to demonstrate that art can bring about change even in difficult circumstances
While wandering through the Montreuil flea market on the outskirts of Paris, artist Tim Smith met a young Algerian man selling napkins and industrial rolls of paper. Tim describes the meeting: "He told me he did copies at the Louvre so I invited him to my studio and showed him how to prep canvases himself.  Subsequently I gave him a few watercolor lessons.  He seemed to absorb everything.  With his new found confidence and watercolor acumen, he is painting for architects, theaters, and France Television where he does watercolor maquettes for variety show sets. The Modern Art Museum of Algiers is currently discussing with him the possibility of a show. The fact that my input altered the life of this young fellow made me realize that art can change people's perspectives and their paths in life and that giving lessons can make a difference"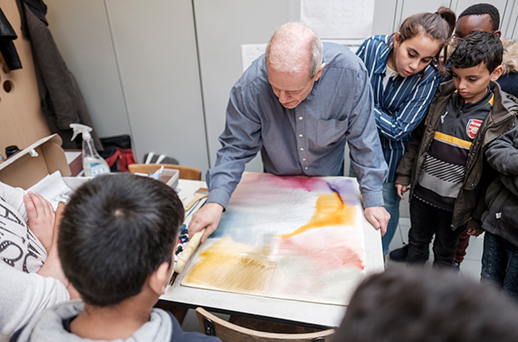 Meeting this young man motivated Tim to help others through art. After the tragic events of Paris in November 2015, Tim's belief that art and education can help ease tensions between cultures encouraged him to take his love of watercolour to one of the sources of tension. So he travelled to Molenbeek, unfortunately known by the media as the birthplace of European terrorism. He offered to teach art classes to people in need of a creative outlet.  The enthusiasm of the locals was evident and after some struggle Tim gained support from the mayor's office and local charities. He now gives weekly lessons at the Centre Communautaire Maritime to children from public schools, women from local shelters, and job seekers.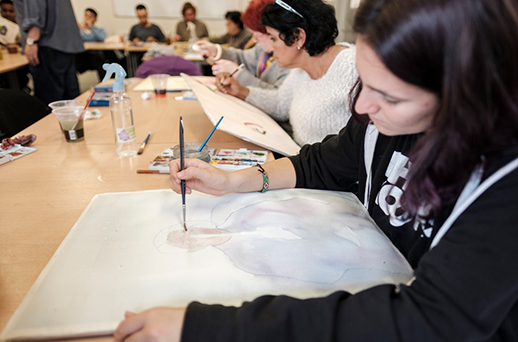 Tim travels to Molenbeek every Friday to meet children from a local school in the morning and adults in the afternoon. During the workshops, Tim carefully explains what happens when paint is applied to a surface, therefore enabling the children to create beautiful pictures even from their first session. His astute knowledge of how watercolour reacts in many varying circumstances helps his students release their inspiration without worrying that they are making a mistake. And by creating collaborative work, the children are able to comprehensively understand techniques, whilst communicating with each other to understand their inspirations.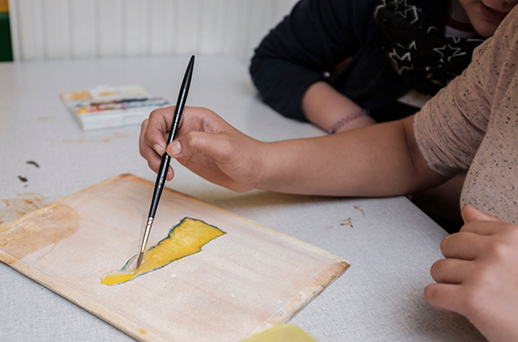 The workshops help to create links between people of vastly differing backgrounds and cultures. Indeed, some of the children do not speak the same languages but were able to interact with each other through the creative outlet of the workshop. When he goes to Molenbeek Tim often talks about the young man he met at the Montreuil flea market.  For Tim, the Molenbeek project is "just a story of very different people talking and listening. If people from different countries and cultures can listen to each other then we have a chance of achieving something."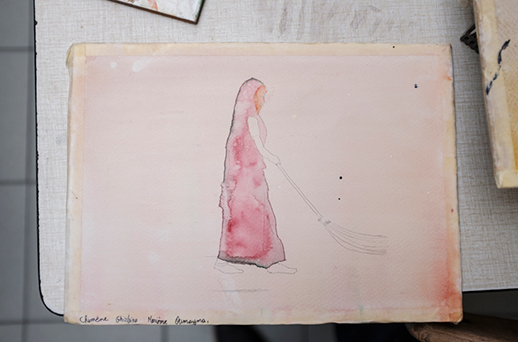 About Tim Smith
Born in Boston, Tim now lives and works in Paris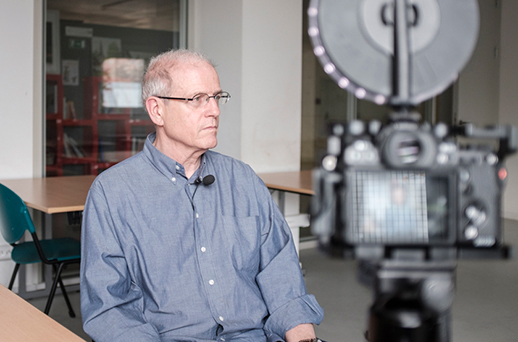 Tim studied at the Vienna Fine Arts Academy while using the famous Vienna Musikverein as an informal education post where he experienced unforgettable music several nights per week.
Music, especially the concept of rhythm and composition, is a significant theme in Tim's work. Throughout his career Tim has helped to illustrate many musical projects for the musical publishing company Naxos, for example the Messiaen's 'Turangalila Symphony' and Antheuil's 'Ballet Mechanique'.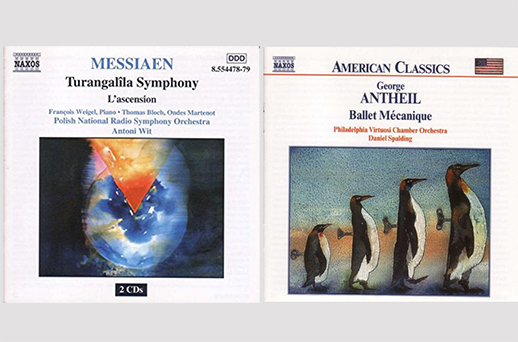 Find out more about Tim and his upcoming projects on his website.