Winsor & Newton at Hay Festival
Winsor & Newton co-hosted a live SketchMeet event with House of Illustration at The Hay Festival. The Hay Festival of Literature & Arts is an annual literature festival held in Hay-on-Wye, Powys, Wales, for ten days from May to June. The festival has expanded over the years to include musical performances, creative workshops and film previews.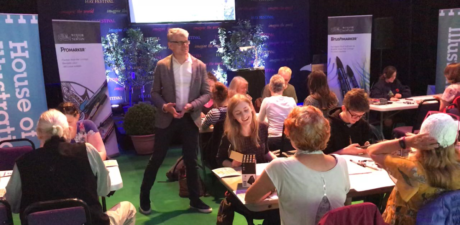 Two 2 hour SketchMeet sessions took place on Friday 1 June with Michael Czerwinsk hosting the Quick-fire Illustration Workshop. Attendees were given a selection of Winsor & Newton ProMarkers, BrushMarkers, Water Colour Markers, Marker Blenders and Marker paper to use. Michael broke the ice by getting them to sketch the person opposite. He gave them topics to sketch throughout the session, the most enjoyable was creating their own animated story from a list of 4 superhero characters to choose from.

Usually the workshops are for children but this year Hay introduced workshops for all ages so that everyone has the chance to be creative, no matter their age! It was a great partnership as Winsor & Newton's range of marker pens are so easy to use!
To find out more about SketchMeet click here.