The Colart companies in France have signed an agreement with The Association for the management of the fund for the integration of disabled people (or AGEFIPH): a first in Sarthe.
By signing this agreement, Colart is part of an active approach to integrating people with disabilities.
The work co-constructed with AGEFIPH will allow Colart teams to be educated about disabilities. The programme helps to support better working conditions and longevity in employment for people with disabilities.
The objective of this 3-year agreement is to go beyond the simple legal constraint and to make the professional integration of people with disabilities an opportunity to open up a broader reflection on the company, its values, and its organization. Through this agreement, Colart affirms its desire to promote diversity.
Colart will leverage the assistance of AGEFIPH to structure its disability approach and contractualise its commitments around six axes: 
awareness and training, 

information and communication,

recruitment and integration, 

support for the professional careers of disabled employees,

maintenance in employment 

collaboration with the adapted sector.
In addition, two people will be appointed as disability referents. To further illustrate our commitment, "DuoDays" are planned for November to coincide with the European week for the employment of people with disabilities.
The Duoday is the logical continuation of the Day in Life that we have been organising for many years.  This programme allows a person to discover and experience the job of a colleagues from a different team or department. This year, more than 50 people signed up for this great experience in Le Mans.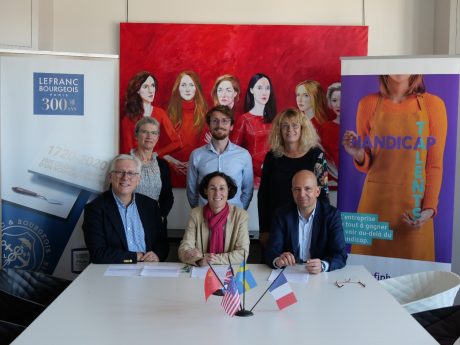 From left to right
Standing up : Pascale Fradin (our nurse – Colart), Eric Drevillon (Agefiph) and Carole Briquet
Seated : Thierry Collot, Claire Quintin-Vicquelin and Dominique Murzeau