On 1st December, Colart became the proud recipient of an award recognising British investment in France. The award was presented during a gala hosted by Hélène Duchêne, French Ambassador to the UK, at the French Residence in London.
This first edition of the Investors' Gala was organised by Business France alongside four French regions, including Hauts-de-France, Occitanie, Provence-Alpes-Côte d'Azur, and Pays de la Loire, where Colart's manufacturing site is based in Le Mans.
With brands such as Winsor & Newton, Liquitex and Lefranc Bourgeois, Colart has a long history of investment and activity in Le Mans, with the original factory opening in 1966, having relocated from Paris. Production of the globally renowned Winsor & Newton brand was transferred from the UK to France in 2010, resulting in the significant expansion of the factory in Le Mans. More recently, Colart has transferred production of several key ranges from its factory in China back to Le Mans, with support over the past years nearing €950K from the Region. In addition, over the past three years, Colart has invested €3M in the Le Mans factory, including adding new filling lines, new mixers, and storage tanks. As part of its corporate roadmap to achieve carbon neutrality in 2030, the company plans to invest a further €5M to €10M over the next five years, which will include investment in additional solar panels, improved building insulation and lower impact heating systems, as well as new logistics infrastructure and systems.
Chief Commerical Officer Gail Pasquier receiving award from Hélène Duchêne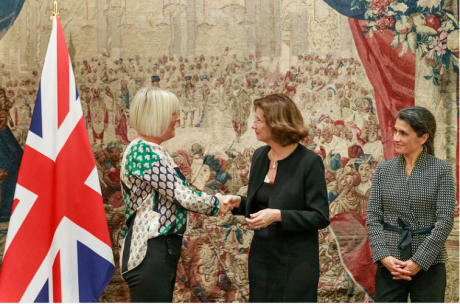 Chief Commercial Officer Gail Pasquier and Chief People Officer Jane Beeston attended the investor gala and represented Colart when presented with the award. "I feel honoured to receive this award on behalf of our colleagues in Le Mans, particularly as they represent such an important part of our operations", says Gail. "I am so proud that our people in Le Mans are recognised for their significant contributions to the Pays de la Loire region. I know this is important to them", says Jane.
Gail Pasquier and Jane Beeston joined over forty British business leaders at the gala celebrating investment projects across the other three named regions. These businesses included GSK, which has invested over €600 million in Hauts-de-France; Computacenter, which has created over 600 jobs in Occitanie; and EP Group, which will create 200 jobs in Provence-Alpes-Côte d'Azur.
Did You Know?
France was the top European destination for British investment in 2021#
Globally, the UK was the 3rd biggest investor in France (behind the US and Germany)
The number of UK investments in France went up by 25%
Almost 1 in 10 of jobs (4,202) created or maintained by foreign investment in France in 2021 were thanks to UK investment.
The UK was #2 for investment projects in the finance and insurance sector
UK investors choose France for hospitality and tourism with 55% of all jobs created or maintained in this sector