SUSTAINABILITY REPORT 2016-17
Our annual report for sustainability from 2016-17, created in collaboration with our Operations and Communications departments. The report goes into detail on how we are embedding sustainability throughout our business to ensure it is at the forefront of everything we do.
Read the full report here.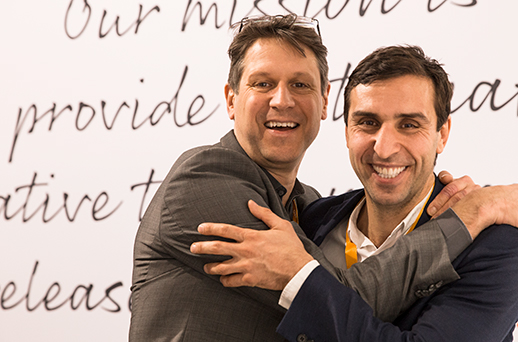 Our CEO Dennis van Schie and Winsor & Newton Brand Director Ben Hovanessian
REFLECTION FROM OUR CEO
The last year at Colart has been a time of reflection, action and transformation. The launch of our vision of 'inspiring every artist in the world' kicked off our exciting journey from being an art material manufacturer for the few to a creative lifestyle company which embraces all types of creativity and welcomes the world to find out more about our company. We did significant work in 2016 looking at all aspects of the Colart business including:
• The strength and positioning of the priority brands
• Sales relationships and activities
• Manufacturing footprint
• Support services
This situation analysis helped us to develop our transformation plan. Over the next five years we will focus on refining our core, igniting growth and driving simplicity throughout our business. Our mission is 'to produce creative, sustainable tools and services to unleash pure expression', and the actions outlined in this report reflect how we are meeting this commitment. Ensuring that sustainability is at the core of our business is not just a moral commitment; it adds long-term value to our company. As we continue our transformation journey there will be increased demand for our products at home, in the studio and even in the corporate workplace. The creative industry is growing and we will be there to meet that demand.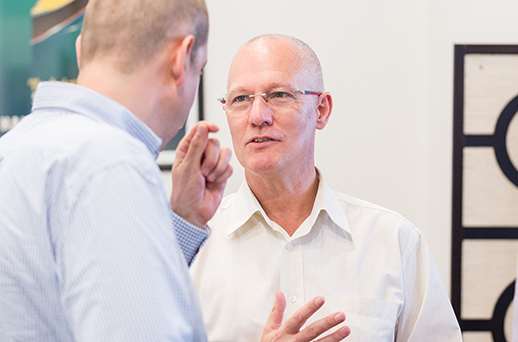 Our Chief Operations Officer, Mark Barratt
GLOBAL SUSTAINABLITY COMMITTEE
Chief Operations Officer, Mark Barratt chairs the global sustainability committee. This committee was set up as we felt that in order to truly embed sustainability in the business we needed a committee with each of the functional leads. Together, they agree on the business priorities relating to sustainability and achieving our LRP.
Our overall ambition is to move Colart along the leader business spectrum from the beginner/performer where we see ourselves today, to a pioneer by 2021. The overall vision is that as a pioneer we would have a net positive impact. This is an ambitious goal but we believe that due to the investment, efficiencies and processes which form part of the long range plan, it is achievable.
Already in 2016 and 2017 we have begun working with key partners from different industries. In 2017 we will look at how to develop this further into global sustainability programs. We have invested heavily in our people and our manufacturing facilities. And we have begun to create an environment where we not only look after the physical, social and mental wellbeing of our employees but also look to provide a safe, sustainable working environment for our global community.
We are looking at global sustainability trends and the impact these may have on our business and we'll start programs to ensure that we are prepared. These trends include water scarcity, digitalisation and raw material scarcity among others. We believe it's important to look to reduce our water footprint, reduce our impact and to reuse and recycle where possible. We need to innovate as a business and with our products to ensure we can capitalise on the growing digital space. And we are looking at new ways of running our business, with initiatives such as localised filling, safer more sustainable formulations, and embedding value stream mapping.
Our KPIs are still important to the business. We will add to them to track our progress and use the UN Sustainable development goals to communicate how they are relevant to the external global focus. On the social side of things we are focusing on community and artist engagement as well as looking at the end-to-end supply chain.
We are also running a programme that looks at our supply chain transparency ensuring that our tier 1 suppliers, and also their suppliers, are aligned to our values and that we are aware of any issues. We need everyone at Colart to engage with the global sustainability committee, the Ambassador Network and your colleagues to ensure that we are doing business in the right way and that we achieve what we have laid out in our LRP and transformation program. In order to do this, we are creating a more network-based organisation, which will help to make us more agile and improve the likely success of our transformation journey.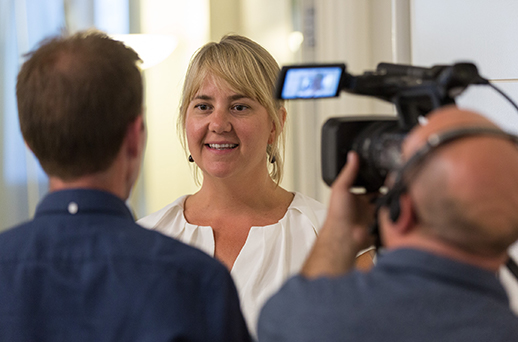 Jenny Johannson, CCSO, Lindengruppen
SUSTAINABLE DEVELOPMENT GOALS
The 2015 United Nations Climate Change Conference (COP 21) brought together 196 parties who negotiated a global agreement to limit overall temperature rise to a maximum of 2°C above pre-industrial levels with an effort to restrict it to 1.5°C. It is currently at 1.3°C. The Paris Agreement is a treaty under international law.
Sustainable Development Goals (SDGs) were introduced as part of The Paris Agreement. This consists of 17 goals created by the parties in order to end poverty, protect the planet and ensure prosperity of all, as part of a new sustainable development agenda. (See Appendix) These SDGs came into force on January 1st 2016. These new goals are the main focus for the next 15 years. They apply to all countries and aim to mobilise efforts to end all forms of poverty, fight inequalities and tackle climate change while ensuring that no one is left behind.
Our Lindengruppen Framework is aligned with these SDGs. And our long-term strategy is to align with the SDGs that are relevant to the business. They can be a useful tool to communicate the work we do internally on the wider sustainability impacts.
NGO PARTNER
Over the last year Forum for the Future has been working in partnership with Colart as their 'critical friend'.
"We've been impressed with their current GETWISER approach that demonstrates strengths in metrics, innovation and reporting – especially across their environmental agenda. For example, with their industry-first launch of a cadmium free paint. We are currently supporting them to revise their strategy to make them the sustainability leader in their industry. We have been struck by the ambition and leadership demonstrated at all levels of the organisation. While there are still significant impacts to be addressed, such as water and carbon use, there are also considerable opportunities to drive product innovation and promote the benefits of creativity especially within the brand and commercial areas. We feel that Colart is well placed to achieve this through its strong leadership, receptive culture and delivery capability." Ben Kellard, Head of Sustainable Business, Forum for the Future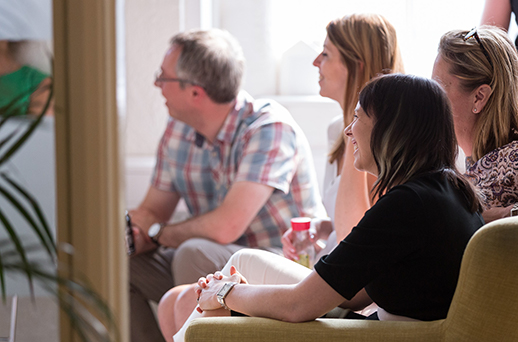 Sara Brennan, our Global Regulatory Affairs Director who leads on sustainability at Colart
TRANSFORMATION
In today's fast paced global business world, a company can never relax and get complacent. Colart is currently going through an extensive and exciting transformation journey towards becoming a global creative lifestyle company. This doesn't mean that we will abandon our heritage as one of the best art material companies in the world. Our roots are more important than ever. Rather, it means that we will develop our beloved brand portfolio and take them into the future.
Our business strategy is built on three pillars:
1. Refine our core
2. Ignite growth
3. Drive simplicity
By acting and delivering on our strategy we will secure success in the future. Our vision of "inspiring every artist in the world" is our guiding star. Our mission is "to create sustainable, creative tools and services to unleash pure expression". That's why we are here.
Read the full report here.