Martin Bergquist Featured in Elephant Toolbox
In the latest issue of Elephant magazine you will find a feature about concept illustrator and storyboard artist Martin Bergquist, who was recently profiled for our 'loved by' series. For the article, which you can read in full here, Martin was asked what his favourite tool is…
What is Martin's favourite tool?
A set of grey Winsor & Newton ProMarker pens:
"My tool of choice would be my grey Winsor & Newton ProMarkers, used together with a fine liner or a ball- point pen. I like to work loosely and simply; most of the time, pen and paper is the best way to start the creative process for me. I'm not too picky with which pen, sometimes I even prefer a used cheap one since they are a bit drier and are easier to draw soft lines with. ProMarkers give me a wide variety of choices in both tonal values and colours; I also like how the values blend with each other. The ProMarkers give me the control to start light and slowly go darker, but not overpower the final pen work. I started to work with this technique back in school when I was studying to be an industrial designer. I then learned how to explore design ideas and search for strong shapes by working very soft with my lines and markers and then defining my preferred choice with darker values and bolder lines."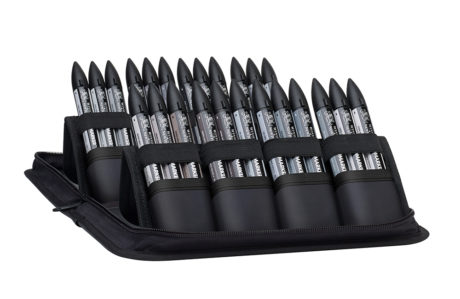 ABOUT MARTIN BERGQUIST
Martin has over ten years of experience working across film and video game not only as a concept illustrator and storyboard artist but also as an Art Director.
For five years Martin was Art Director at Avalanche Studios before choosing to work freelance on a variety of projects. Most recently, Martin worked on Jurassic World Fallen Kingdom in the VFX team at Important Looking Pirates in Stockholm.
Visit our profile about Martin here.