Hospital Rooms Fundraiser hosted at Colart
Hospital Rooms aims to disrupt the barriers that limit access to art and culture for people using secure and locked mental health services. For a recent project at  Eileen Skellern 1, a psychiatric intensive care ward (PICU) at the Maudsley Hospital, the team commissioned artists to permanently transform inpatient wards.
Hospital Rooms and contributing artists Paresha Amin, Aimee Mullins, Harold Offeh, Nengi Omuku, Julian Opie, Tamsin Relly and Tim A Shaw, worked with staff and patients from Eileen Skellern 1 to change the physical environment of the ward. As these wards are inaccessible to the public Hospital Rooms were invited to exhibit the work created at our Head Office in West London.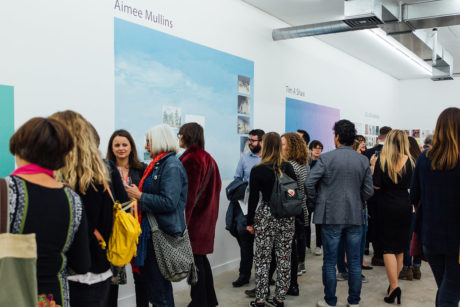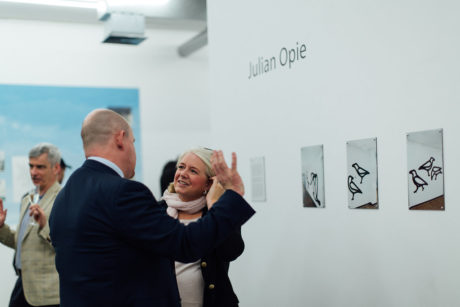 Consultant Psychiatrist, Dr Faisil Sethi, said: "Psychiatric Intensive Care Units support patients at a time when they are acutely unwell and at their most vulnerable. The experience of patients and staff in these units is hugely affected by the aesthetic and design of the physical environment.
"This innovative project has brought together patients, clinicians and artists to co-produce museum quality artwork. Using the power of art to empower women in mental health crises and promote recovery will lead to a sustained positive change in the way we care for our patients."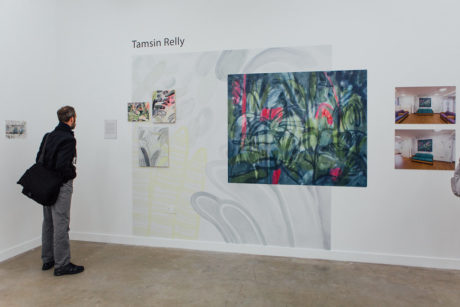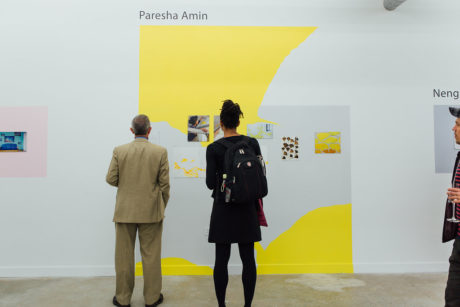 During the project, the Hospital Rooms co-founders, the artists and ES1 staff discussed the specific requirements of the ward and share clinical expertise, and artists have lead art workshops with service users to gather their ideas. These sessions influenced each artist's work.
Hospital Rooms co-founders artist Tim A Shaw and curator Niamh White said: "This project is our most ambitious to date and we are thrilled with the artworks that have been produced.
"From Nengi Omuku's moving abstract mural that alludes to a family scene in which three figures attentively offer comfort and care, to Aimee Mullins' pine scented immersive landscape whose horizon disappears into the distance or Harold Offeh's musing on incidental beauty that was made with patients, we have collaboratively enabled artists to respond to, interpret and conceptually re-think clinical space and the potential it contains.
"We're excited to share these artworks with the public."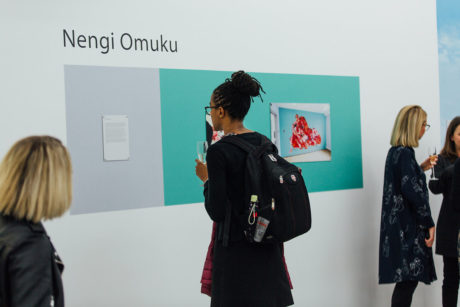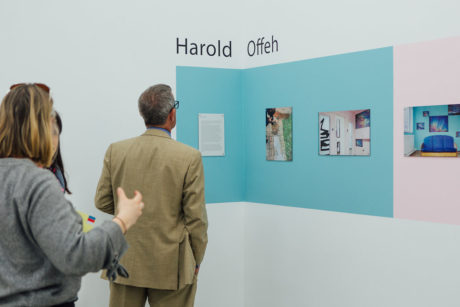 The event was a fantastic opportunity to bring together the artist and the team at Eileen Skellern 1, Hospital Rooms also took the opportunity to raise funds for upcoming projects by inviting artist to take part in their 20 x 20 fundraiser.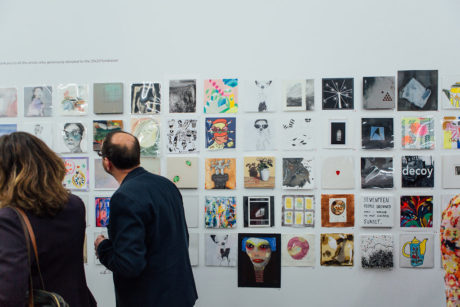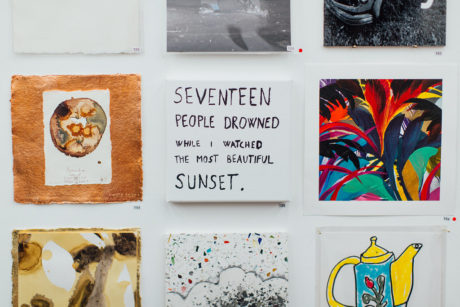 For the 20 x 20 fundraiser artists were asked to make a work of paper withing a 20 x 20 size limitation – the hospital Rooms team was overwhelmed by donations from artists across the world, and exhibited 177 artworks, which helped them to raise £8,000 for their charity. We like to thank all of the artists and everyone at Colart who helped make the event possible.
Niamh White says: "It was a mammoth team effort!"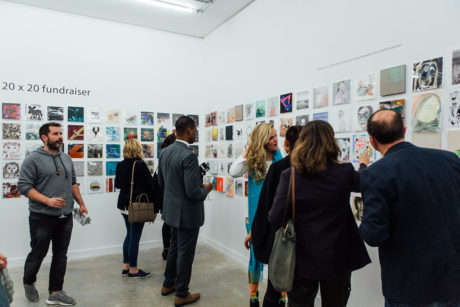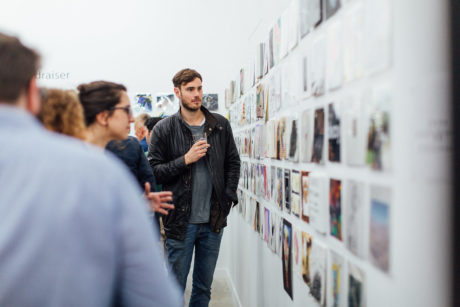 Artists who exhibited in the 20 x 20 fundraiser:
Adam Bottomley, Adam Hennessey, Aimee Parrott, Alex March, Alexander Stavrou, Alina Zamanova, Andrea Coltman, Andreas Tomblin, Anna B Sexton, Anna Freeman Bentley, Anna Garrett, Anna Lytridou, Anna Proctor, Antonia Jackson, Anya Charikov-Mickleburgh, Anya Kashina, Athene Grieg, Bea Haines, Benjamin Murphy, Beth Fraser, Cara Nahaul, Caragh Savage, Charley Peters, Christian Furr, Claire Brewster, Claire M Moore, Claire P Halliday, Coco Crampton, Cressida Haughton, Dave Farnham, Day Bowman, Dina Varpahovsky, Ella McCartney, Emma Copley, Emma Sheehy, February James, Ferg Cooper, Fiona G Roberts, Fiona Grady, Fionn Wilson, Robert  Fitzmaurice, Francesca Simon, Frederic Anderson, Gail Robins, Gillian McCusker, Hannah Coulson, Hannah Luxton, Hayley van der Westhuizen, Helen Bermingham, Helen Bullock, Henry Tyrrell, Ingrid Berthon-Moine, J.A. Nicholls, James Kenison, James Petrucci, James Randell, Janet Currier, Jacquetta Crook, Jemima Sunley, Jenifer Corker, Jennifer Mawby, John Sheehy, Jonathan Barrie, Joshua Osborn, Josie Goddard, Jowy Maasdamme, Juan Bolivar, Julie Umerle, Karen David, Karl Bielik, Karolina Albricht, Kate Boucher, Katharine Lazenby, Leah Stewart, Leslie Farago, Lisa Traxler, Lisa V Robinson, Liz Elton, Lynn Dennison, Mandy Hudson, Marco Rea, Marianne Basualdo, Matilda Bevan, Matthew Krishanu, Melinda Satark, Merve Sozeri, Mew Jirasirikul, Michael O'Reilly, Mindy Lee & J.A.L. B, Minyoung Choi, Mircea Teleaga, Nectarios Stamatopoulus, Nengi Omuku, Nicasio Torres Melgar, Nicole Price, Nina Duckworth, Olivia Kemp, Orlanda Broom, Paola Travers, Paresha Amin, Pat MacDonald, Paul Hart, Paula MacArthur, Po You Cheung, Rebecca Byrne, Rei Nadal, Richard Walker, Robert Dixon, Rosalind Barker, Sal Jones, Sarah Carpenter, Sarah Lightman, Sarah Praill, Sneh Mehta, Sophie Clements, Stacey Gilmour, Stacey McCormick, Stephanie Tudor, Stephen Williams, Stephanie Nebbia, Steve Macleod, Susan Sluglett, Sutapa Biswas, Susannah Douglas, Susie Hamilton, Svetlana Grishina, Tamara Kametani, Tim A Shaw, Tine Isachsen, Tom Goddard, Tom Sewell, Velwyn Yossy, Vicent Carda, Victor Seaward, Wendy Saunders, Yukako Shibata
About Hospital Rooms
Hospital Rooms is a mental health charity that believes in the enduring power of the arts to instil value, dignity and wellbeing in people. We commission museum quality and compliant artwork and environments for mental health units in NHS hospitals.
Our aim is to disrupt the barriers that limit access to art and culture for people using mental health services. The charity has undertaken projects at the Garnet Ward in Camden and Islington NHS Foundation Trust, Snowsfields Adolescent Unit in South London and Maudsley NHS Foundation Trust, and the Phoenix Unit and Recovery College at South West London and St George's Trust.
Our participating artists have included Nick Knight, Gavin Turk, Mark Titchner, Tschabalala Self and Assemble among others. Hospital Rooms was co-founded by artist Tim A Shaw and curator Niamh White.
To find out more visit Hospital Rooms
Recent Press about Hospital Rooms
Channel 4: https://www.channel4.com/news/charity-transforms-mental-health-units-with-art
The Eileen Skellern 1 project was funded by Arts Council England and through Hospital Rooms' friends and donors.